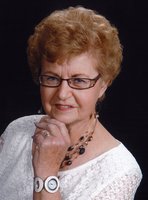 Anna Mae Engstrom
Anna Mae Engstrom, age 77, of rural Tabor, SD passed away unexpectedly at her home on Wednesday, March 31, 2021. Mass of Christian Burial will be 2:00 PM, Tuesday, April 6, 2021 at St. Leo's Catholic Church, Tyndall, SD with Rev. Joe Forcelle officiating. Burial of her cremated remains will be at a later date. Visitations will be 5 to 7 PM, Monday, April 5, 2021 at St. Leo's Catholic Church, Tyndall, SD with a Wake service at 7:00 PM. Visitations will resume one hour prior to the service at the church. Live streaming of Anna Mae's services at: https://www.facebook.com/opsahlkostel/live. Those wishing to attend in person are asked to wear a mask and to practice social distancing guidelines. Online condolences may be made at: www.opsahl-kostelfuneralhome.com. Arrangements are under the direction of Opsahl-Kostel Memorial Chapel, Tyndall, SD.
Anna Mae was born July 6, 1943 to Frank & Helen (Behensky) Zdenek in Yankton, SD. She graduated from Tabor High School and attended Southern State Teachers College in Springfield.
Anna Mae married the love of her life, Marvin Engstrom, on January 4, 1964 at St. Wenceslaus Church in Tabor, SD and to this union three daughters were born: Lynette, Michelle & Nicole. In 1970, they moved to The Dalles, OR. They returned to SD in 1976 and 4 years later Marv "moved her back to her home place" on the farm.
Her early years encompassed being a wife and mother. She taught her three girls how to cook, sew and garden all of which she loved. When the kids went to college she began working at the bridal store, Victorian Lace, and finished her career with First National Bank Card Center. Upon retirement, Anna Mae & Marv traveled across the U.S. in their motor home. While traveling they visited family and friends with occasional stops at casinos. They enjoyed attending many of the grandkid's sporting events. Good times were spent with her sisters at their "sister weekends" which they continued for many years.
Anna Mae is survived by her loving husband, Marvin, daughters Lynette(Ben) Huber, Michelle (Steve) Fejfar, Nicole (Dean) Kaul. Grandchildren include Samantha (Tyrell) Muller, Chance Huber, Ashley (Seth) Cloud, Jessica (Brandon) Koupal, Preston Fejfar, Memphis, Wes, Trey and Olivia Kaul. Great-grandchildren are William Muller and Cassius Cloud. She will be lovingly remembered by her sisters Jeanette (Ron) Matuska, Marcine (Roger) Henderson, Joan (Rick) Kline and her brothers Larry (Crystal) Zdenek and Randy (Deborah) Zdenek and many nieces and nephews.
Anna Mae is preceded in death by her parents, Frank and Helen Zdenek.