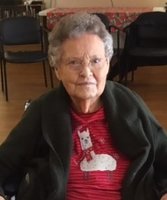 Mary M. Buckman
Buckman, Mary
Mary M. Buckman, age 101 of Yankton, SD passed away on Monday, March 22, 2021 at Avera Sister James Care Center in Yankton. Funeral services will be 10:30 a.m., Saturday, March 27, 2021 at the Opsahl-Kostel Funeral Chapel, Yankton, SD with the Rev. Fr. Larry Regynski officiating. Burial will be in the Gayville Cemetery, Gayville, SD. Visitation will be 5 to 7:00 p.m., Friday, March 26, 2021 at the Opsahl-Kostel Funeral Home & Onsite Crematory, Yankton, SD and then one hour prior to the service on Saturday. Live streaming of Mary's service can be found at: https://www.facebook.com/opsahlkostel/live. Online condolences may be made at: www.opsahl-kostelfuneralhome.com. Arrangements are under the direction of the Opsahl-Kostel Funeral Home and Crematory in Yankton.
Mary Margaret Buckman passed away at Majestic Bluffs on Mar. 22, 2021, at the young age of 101. She was born to Viola (Sigard) and Charles Donovan on Dec. 24, 1919 in Volin, SD.
Besides being wife and mother, she was a teacher for 23 ½ years. She taught in several schools in the Gayville and Yankton communities, with her most recent time spent teaching 3rd graders at Beadle School in Yankton.
While teaching, Mary continued her college education, earning her bachelor's degree from Mt. Marty College in 1968.
She married Donald "Budgie" Buckman in San Francisco on June 27th, 1945, where Budgie was stationed. They returned to Gayville where they bought a farm and raised their 3 children.
Surviving family members include Gail (Larry) Skove, Mike (Mary) Buckman, and Joan Beach. Grandchildren include Jodi (Cory) Schnider, Wade (Christina) Beach, Matt (Callie) Beach, Cory Beach; Nick (Alison) Buckman and Jenny Buckman. Great-grandchildren Riley and Griffen Schnider, Riley and Kellen Beach, Natalle, Nash, Knox Buckman; Gillian Buckman; Braxton, Camden and Berkley Beach, sisters Kathy Kollars and Sharon Griffin, sister-in-law Mae Ann Donovan, and Janice Donovan. And by many nieces and nephews.
She was preceded in death by her husband Budgie; son-in-law Gerald (Butch) Beach; sister Frances VanOsdel; brothers Leo, Charles, Dick, and Corky Donovan, sister's in law Betty Donovan and Mil Donovan brother-in laws Aaron Kollars and Ken Griffin.