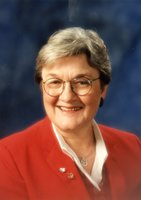 Dr. Charlotte M. Herman, EdD.
Dr. Charlotte M. Herman, EdD., age 78 of Sioux Falls, SD and formerly of Yankton, SD passed away on Saturday, March 13, 2021 at Good Samaritan Society Lennox. A memorial funeral mass will be at 11:00 a.m. on Saturday, April 10, 2021 at St. Wenceslaus Catholic Church in Tabor, SD with the Rev. Fr. Mark Lichter as Celebrant. Burial of cremated remains will follow in the parish cemetery. Visitation will be for one hour prior to service time at the church. Livestreaming of Charlotte's service will be at https://www.facebook.com/opsahlkostel/live. Online condolences may be made at: www.opsahl-kostelfuneralhome.com. Arrangements are under the direction of the Opsahl-Kostel Memorial Chapel in Tabor.
Charlotte Marie Herman, the daughter of Lawrence and Tillie (Novotny) Herman, was born on August 5, 1942 on the Dvoracek farm southwest of Tabor, SD. The family later moved to her mother's family farm, the Louis Novotny farm, also southwest of Tabor. Char helped on the farm and attended Byrne country school #62 and Tabor High School. Upon graduating from Tabor High School, she attended Sacred Heart School of Nursing for two years and then transferred to Mount Marty College, where she graduated with a BS in Nursing in 1966. She then attended the University of Washington in Seattle, and then the University of Nebraska, Lincoln, NE where she earned her Doctorate.
Char worked as a professional nurse clinically, as well as an educator. She was given the honorary title of Professor Emeritus from Nebraska Methodist College. Charlotte wanted to be remembered as someone who cared deeply.
She was united in marriage to Edward C. Eichler near Valley, NE on September 1, 1990. He preceded her in death in 2014.
Prior to this time, Char spent her early adult years as a Benedictine nun and then as a professional nurse educator, teaching at Mount Marty, Creighton University, and Nebraska Methodist College. She worked as a charge nurse, head nurse, and P.M. Supervisor, and as a clinical nurse specialist in Psychiatric Mental Health Nursing.
Char loved her family, friends, and especially her siblings, her husband, and his children and grandchildren.
Left to cherish her memory are a stepson Paul (Jane) Eichler of Omaha, NE; a stepdaughter Stephanie Thielen of Omaha, NE; three step-grandchildren: Rex and Carter Eichler, and Tomás Thielen; several nieces, nephews, and extended family; brother, Larry (Kay) Herman of Duluth, MN; brothers-in-law, Eugene Soukup and Roger Kostel; sisters, Mildred Walloch of Lesterville, SD, Marjorie (Roy) Schoon of Slayton, MN, Tillie (Melvin) Loecker of Crofton, NE; other relatives and friends.
Char was preceded in death by her parents; her grandparents, Alois and Mary (Zitka) Novotny and William and Emma (Dvoracek) Herman; sisters, Mary Lou Kostel and Rosalie Soukup; brother-in-law, Clarence Walloch; great-niece Natalie Krohn; and mother-in-law, Agnes Eichler.