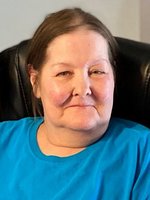 Cheryl A. Bridenbaugh
BRIDENBAUGH CHERYL
Cheryl Bridenbaugh, age 62 of Yankton, SD passed away Thursday, November 12, 2020 at Avera Sacred Heart Hospital, Yankton, SD after a battle with cancer. Private family services will be held 3:00 PM, Sunday, November 15, 2020 with Rev. Paul Albenesius officiating. Live streaming of Cheryl's services can be found at: https://www.facebook.com/opsahlkostel/live. Online condolences may be sent at: www.opsahl-kostelfuneralhome.com. Arrangements are under the direction of Opsahl-Kostel Funeral Home and Crematory in Yankton.
Cheri, daughter of Wesley and June (Slepicka) Reifschneider was born January 20, 1958 in Lincoln NE. She grew up in Lincoln NE, but moved to South Sioux City, NE in 1968. She received her GED in 1976. She married John Albenesius September 27,1975. To this union three children were born, John, Angela & Lisa. While raiser her children she worked at Aalfs Manufacturing in the clothing store. On July 21, 1995 she married David Bridenbaugh. They lived in Sioux City until 2010 when they moved to Yankton, SD for a quieter life. In 2014 Cheri began caring for her grandchildren during the day. She cared for the youngest two up until a few weeks ago. She loved planting and caring for a garden and flower garden. She loved going for car rides and enjoying being in the outdoors. She loved playing card games with her husband and children. She was a great cook. When cooking she usually cooked for an army. family would joke, we'll be eating this for a week. She loved her beloved cat Gizmo and her grand-fur babies. She was best known to her children's friends as "MooMoo" and later to her grandchildren. Her grandchildren were the light of her life. She will be missed by many and she will continue to be loved by a lot. She had a smirk on her face when she passed telling her best friends Karen & Marcie, look out, here I come.
Survivors include her husband, Dave Bridenbaugh of Yankton, SD, son, John Albenesius of Sioux City, IA, daughter, Angie Albenesius of Yankton, SD, daughter, Lisa (Jeff) Loecker of Yankton, SD, step-daughter, Tanya Schreier of Dakota City, NE and Jenny Parkhill (like a daughter) of Sioux City, IA. Grandchildren Korbin Kueny of Yankton, SD, Kilee Albenesius of Yankton, SD, Paisley Loecker of Yankton, SD and Preston Loecker of Yankton, SD. Step-grandchildren Tyler Loecker of Yankton, SD, Kyle (Shayla) Loecker of Fargo, ND, Lexy Loecker of Surprise, AZ and Tanner Loecker of Yankton, SD. Brother Rex (Sandy) Reifschneider of Port Orchard, WA and many cousins, nieces and nephews.
She was preceded in death by her parents Wesley & June Reifschneider and brothers Gordon & Alan Reifschneider.