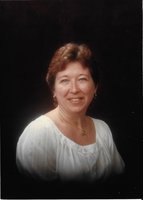 Maxine M. Lidel
LIDEL MAXINE
Maxine Marie Schoneveld Purvis Lidel, age 84 of Yankton, SD passed away early Thursday, November 05, 2020 at Angelhaus West, Yankton, SD. There will no formal services in Yankton, SD, however, condolences may be sent at: www.opsahl-kostelfuneralhome.com. The Opsahl-Kostel Funeral Home & Onsite Crematory, Yankton, SD is assisting the family locally.
Maxine was born April 10, 1936, at the Memphis General Hospital in Tennessee and was adopted by William and Rosa Schoneveld. She graduated from Booton High School in Booton, New Jersey, and attended college at Syracuse University in New York.
On June 14, 1956, she married Julian Ives in Booton, NJ. To this union were born Christopher in 1957 and Pamela in 1958. The couple were divorced and in 1965 she married John Donald Purvis. It was during her marriage to "Rev. Don" that Maxine first came to Nebraska. Her son Chris attended and graduated from Bancroft school and later graduated from college in Yankton, South Dakota.
Maxine, Don and Pam ended up back on the east coast after a time in California where Pam graduated from high school. The couple divorced while living in New Jersey.
In 1984 Maxine married Darrel Lidel in Yankton and in the early 1990s they moved from Webster, New York, to Walker Valley near Crofton, Nebraska, after Darrel retired from Kodak. Later they moved to Yankton where Darrel passed away in 2018. Battling Alzheimer's Disease, Maxine moved to Angelhaus assisted living.
Maxine enjoyed work in community theater in New Jersey, (West Point) Nebraska, New York and finally in South Dakota. While living back east, she sang with the Sweet Adeline's. Libraries were among her "happy places" along with seashores and lakes. She helped launch the Bancroft Public Library in 1974 and was a supporter of the Yankton Community Library. She was an active dog lover involved with the shelter in Yankton.
Left to mourn her passing are her son Chris and his wife Sandy Ives; stepchildren Ruth and Nell Hurley and families and Paul Lidel; grandchildren Elizabeth Papparatto (Rey Montesino), Matt and Nick Papparatto, Alex Ives, Jane Ives; and great grandchildren Aiden and Oliver Montesino.
Preceding her in death are her husband Darrel Lidel; parents Rosa and "Papa Bill" Schoneveld; daughter Pam Papparatto; and grandson Mike Papparatto.