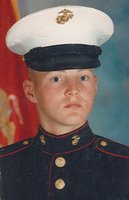 Toby J. Hoffman
HOFFMAN TOBY J
Toby J. Hoffman, age 49 of Yankton, SD passed away from injuries sustained in an automobile accident on Saturday, October 31, 2020. Memorial services will be 1:00 PM, Thursday, November 5, 2020 at the Opsahl-Kostel Funeral Chapel, Yankton, SD with Rev. Dani Jo Bierwagen officiating. Burial will be in the Sacred Heart Cemetery, Yankton, SD with Military Graveside Rites by the Ernest-Bowyer VFW Post #791 Honor Guard, and the US Marine Honor Guard. Visitations will be 5 to 7:00 PM, Wednesday, November 4, 2020 at the Opsahl-Kostel Funeral Home & Onsite Crematory, Yankton, SD and the one hour prior to the service. Due to COVID-19 concerns, live streaming of Toby's services can be found at: https://www.facebook.com/opsahlkostel/live. Those wishing to attend in person are asked to wear a mask and to practice social distancing guidelines. Online condolences may be sent at: www.opsahl-kostelfuneralhome.com. Honorary Pallbearers will be Toby's great nieces and nephew, Avery Kotalik, Hadliegh Barta, Grayson Wolhoy and Zemira Nelson.
Toby J. was born July 12, 1971 to Russell and Dianna (Llewellyn) Hoffman in Yankton, SD and was baptized at Trinity Lutheran Church in Yankton in 1971. In 1989, he graduated from Yankton High School. Toby joined the Marines right out of high school and was in Desert Storm from 1990 to 1991. Toby worked at Janssen's Garbage most of his adult life. He enjoyed many hobbies especially hunting, fishing, Nascar, Dallas Cowboys and fixing whatever he could get his hands on to fix. Everyone enjoyed being around Toby; he was loved by all and, always had a smile on his face.
Toby's memory will be cherished by his parents, Dianna (Lowell) Janssen of Yankton, SD and Russell (Lori) Hoffman of Mission Hill SD; his brothers and sisters, Eric Wolhoy, Tina Wolhoy, and Toni (Mike Lee) Wolhoy, all of Yankton, SD, Joe (Jessica) Hoffman of Volin, SD and Katie Hoffman of Mission Hill, SD; two step brothers, Virgil (Kim), and Lowell (Melissa) Janssen JR, both of Yankton SD. He thought the world of his nieces and nephews, Alex (Michelle) Wolhoy, and Rayan Wagner, both of Yankton, SD, KayLee (Rustin Janssen) Hoffman of Lake Preston, SD, Dylan Hoffman of Crofton NE, Garett Wolhoy, Destanie and AbbiGail Stahlecker, Kaitlyn Lee, Tiffany, Blane and Emelia Nelson, Emily, Caden and Braden Janssen, all of Yankton, SD, Zoe and Cobe Hoffman, both of Volin, SD.
Toby was preceded in death by three brothers, Troy, Marty, and Todd Hoffman; his stepfather, Gary Wolhoy; his maternal and paternal grandparents; and numerous uncles and, an aunt.