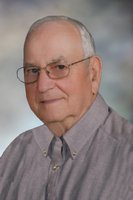 Martin W. "Marty" Raab
Martin W. "Marty" Raab, age 90 of Yankton, SD passed away on Saturday, October 10, 2020 at Avera Majestic Bluffs Hospice House in Yankton. Funeral Mass will be 10:30 a.m. Thursday, October 15, 2020 at Sacred Heart Catholic Church with the Rev. Fr. Larry Regynski as Celebrant. Burial will follow in Sacred Heart Cemetery with military honors accorded by Ernest Bowyer VFW Post 791 Honor Guard and SDARNG Honor Guard. Visitation will be 5 to 7:00 p.m. Wednesday, October 14 at Opsahl-Kostel Funeral Home and Crematory with a 6:45 p.m. Holy Rosary and a 7:00 p.m. Vigil Service. Due to COVID-19 concerns, friends and family are encouraged to participate through live streaming of Marty's services at: https://www.facebook.com/opsahlkostel/live. Those wishing to attend in person are asked to wear a mask and to practice social distancing guidelines. Online condolences may be made at: www.opsahl-kostelfuneralhome.com. Arrangements are under the direction of Opsahl-Kostel Funeral Home and Crematory in Yankton.
Martin was born September 3, 1930 in Avon, MN to Louis and Katherine (Salzer) Raab. He grew up on the family farm with his five brothers and three sisters. Upon turning 18, he was enlisted in the Army. He went to the Korean War and was honorably discharged in 1949. He was recalled and returned to Korea a second time, again honorable discharged in July 1952. Martin was a patriotic man and extremely proud to have served his country. After returning from Korea he came to the Yankton area with an Army buddy, Johny Jepsen and helped local farmers around the Gayville area. Not much later he met the love of his life, Patricia Smith. They were married November 3, 1953 and to this union, two children were born, Larry and Steve. Martin worked at the Yankton County Highway Department before moving to the City of Yankton Street Department where he worked for the next 26 years, retiring in 1992. He served as a volunteer Firefighter in Yankton for 27 years and was a member of Sacred Heart Catholic Church.
Martin was an avid outdoorsman. He loved hunting, fishing, and gardening. He also loved spending time with family and friends at the trailer. However, his absolute favorite pastime came a little later in life, spending as much time as possible spoiling his four grandsons, Jerrid, Nick, Jack, and Max. They were the light of his life and the sparkle in his eyes.
Left to cherish his memory are his wife of 66 years, Patricia; son, Larry (Tracy) of Yankton, SD; grandsons, Jerrid (Bridget) Conway of Jerymn, PA, Nick (Kelsey), Jack and Max Raab, all of Yankton, SD; great-granddaughters, Sadie and Skylar Conway; special friend of the family, Nancy (Ron) Bugay of Pierre, SD and brothers, Steve, Joe and Louis.
Martin was preceded in death by his son, Steve Raab; parents; brothers, Leo and Meine and three sisters, Betty, Hilda, and Marie.