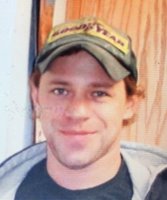 Elisha Wright
ELISHA WRIGHT
On Friday, September 25, 2020, at the age of 39, Elisha Wright died unexpectedly.
Elisha was born on October 27, 1980, in Bon Homme county. Shortly after graduation from Scotland High School, he moved to Oklahoma to work with his uncle, Rick Machacek, in the oil fields. Elisha returned to South Dakota about ten years later.
Elisha valued the friendships he developed with his coworkers over the years, namely in the oilfields of Oklahoma, as well as at Applied Engineering Inc. in Yankton, South Dakota, and at both Rooster's and the Hansen-Mueller grain elevator in Menno, South Dakota.
Elisha was preceded in death by Danny Wright and Bennie Kaufman, as well as his brother Jeremy Wright.
He is survived by Lois Machacek, his mother, and Molly and Ruby Fitzmaurice, and many family and friends. Elisha will be dearly missed by all who knew and loved him. The Aisenbrey-Opsahl-Kostel Memorial Chapel, Menno, SD is assisting with his services. On line condolences may be sent at: www.opsahl-kostelfuneralhome.com. No formal service are planned at this time.