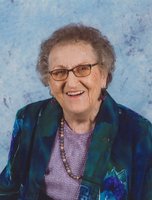 Joan M. Suing
Joan M. Suing, age 88 of St. Helena, NE passed away Monday, October 05, 2020 at the Arbor Care Center, Hartington, NE. Funeral Mass will be 10:30 a.m. Saturday, October 10, 2020 at Immaculate Conception Catholic Church in St. Helena, NE with the Rev. Fr. Eric Olsen as Celebrant. Burial will follow in the parish cemetery. Visitation will be 5 to 7:00 p.m. on Friday, October 9 at the church with a 7 p.m. Vigil Service and Holy Rosary. There will also be visitation for one hour prior to service time on Saturday. Due to COVID-19 concerns, friends and family are encouraged to participate through live streaming of Joan's services at: https://www.facebook.com/opsahlkostel/live. Those wishing to attend in person are asked to wear a mask and to practice social distancing guidelines. Arrangements are under the direction of Opsahl-Kostel Funeral Home and Crematory of Yankton, SD. Online condolences may be made at: www.opsahl-kostelfuneralhome.com.
Joan was born in Menominee, NE to Theodore and Josephine (Tramp) Albrecht. She was the youngest of eleven children. She attended country school near their home and graduated from Mount Marty High School in 1949. She worked at JC Penney 's, Gurneys, Sacred Heart Monastery and Sunshine Deli. On August 23, 1950 Joan married Gerald Suing. They lived on the farm in St. Helena for 57 years and then moved to St. Helena in 2007.
Joan and Gerald were active members of Cursillo and Marriage Encounter. They enjoyed playing cards and visiting with family and friends. Joan enjoyed gardening, canning and flowers.
Joan is survived by her sons, Joe (Angela) Suing, Aaron (Stacy) Suing, both of St. Helena, NE; and Mark and partner, Gary of St. Croix Falls, WI; daughter, Mary Sterling Thompson of Yankton, SD; 9 grandchildren; 18 great-grandchildren, 10 great great-grandchildren; sisters-in-law, Jeannette Lammers of Hartington, NE, Margaret Ann Schmidt of Menominee, NE, Joyce Albrecht of Menominee, NE and Rose Mary Guenther of Crofton, NE.
Joan was preceded in death by her parents, Theodore and Josephine Albrecht; husband, Gerald Suing in 2014; daughter, Laurie Suing in 2019; brothers, Vitus, Roman, Floyd; sisters, Rita, Velma, Marie, Sister Agnes, Sister Clare, Celestine and infant sister; 3 grandchildren; and 2 great-grandchildren.