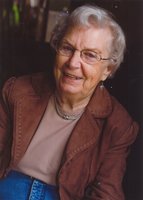 Helen Baily
Helen Andrews Baily, age 94 of Yankton, SD passed away on October 3,2020. Burial will be in Miller SD and a celebration of Helen's life will be held at a later date.
The Opsahl-Kostel Funeral Home is assisting with the service details. On line condolences may be sent at: www.opsahl-kostelfuneralhome.com.
Our family found this note written by Helen after her 80th Birthday.
These words from Helen are meant for you:
"Since my 80th birthday, not a day has gone by that I have not been reminded by someone through their letters, cards, smiles and stories of what a privilege and delight it was for me to be a member of the Yankton School system and teach them or their children for over 50 years."
Thank you
Mrs. Baily (Helen)
Helen Mary (Andrews) Baily was born July 6,1926 to Worley and Esther (Schroeder)Andrews in Wessington, SD. Helen's family moved to Miller, SD, where Helen's grandparents, Hans and Carrie Schroeder resided. After years in Miller, the family moved to Beresford SD. The summer of Helen's junior year of High School in Beresford, her family relocated to Yankton. Helen was able to remain in Beresford to finish her senior year. Throughout Helen's senior year of High School, she was captain of the baton/twirling team, participated in school plays and was in the first class that allowed girls to wear slacks to school. Helen attended Yankton College where she received her teaching certificate. After graduation, Helen and her husband, Robert Baily moved to Parker, SD where she began her teaching career. Helen's next move brought them to Yankton, where they welcomed their 3 children, Gregg, Robbin and Jane. Helen continued teaching in Gayville, SD and the surrounding rural schools. She proudly showed her grandchildren one of the rural schools she taught in, which is now located at Westside Park in Yankton. Helen began her many years of teaching in Yankton with the First graders at Beadle school. This earned her the nickname "Beadle Baily". Throughout the years, Helen continued her education and received her Bachelor of Science Degree and her Master's Degree.
Helen earned many honors: Teacher of the year, Annie Talent Award, and Delegate to National Convention Advisory Board. She participated in many organizations including PEO, VFW, Eastern Star, Delta Kappa Gamma, Meals on Wheels, Special Olympics and was a member of The United Church of Christ. Even at age 90, she was chosen as Valentine Days Queen by the staff and residents at Pioneer Memorial Nursing Home. She enjoyed cheering on the Yankton Bucks and watching her Chicago Cubs. Helen had a love for music and playing bridge and continued to thank her bridge partners for sticking by her. After Helen's retirement, she was very fortunate to be able to travel to many countries with her loving sister, Karen Andrews and a special friend of our family, Dick Bowers.
Helen was most proud of her children and their families, watching them grow into lovely adults and begin to have their own lives, apartments, careers and families. She was anxious to hear all the new stories of her great grandchildren from their births to their first days of pre-school through college.
Helen is survived by sons, Gregg Badger (Laurie Boynton) Baily of Yankton, SD, and Robbin (Crystal Hardy- Hansen) Baily of Dell Rapids, SD; daughter, Jane (Jim) Bertsch of Omaha NE; and sister, Karen Andrews of Bozarth, Meza, AZ. Helen loved her 9 grandchildren and 19 great grandchildren.
Helen was preceded in death by her parents, Esther and Worley Andrews; brother, Kaye Andrews; grandson, Andrew "Drew" Baily; granddaughter, Nicole Baily, and great granddaughter, Madilyn Sue Brown.
Memorials are directed to the United Church of Christ (Congregational), Yankton, SD Building Fund (Windows), 210 West 5th Street; Yankton, SD 57078.
Helen will be greatly missed by her family.