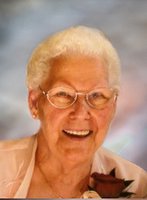 Elizabeth "Elsie" Gurney
GURNEY ELIZABETH
Elizabeth M. 'Elsie' Gurney, age 93, 0f Yankton, SD passed away Monday, September 14, 2020 at Avera Sister James Care Center, Yankton, SD. Mass of Christian Burial will be 10:30 AM, Friday, September 18, 2020 at Sacred Heart Catholic Church, Yankton, SD with Rev. Larry Regynski officiating. Burial will be in the Sacred Heart Catholic Cemetery, Yankton, SD. Visitations will be 5 to 7 PM, Thursday, September 17, 2020 at the Opsahl-Kostel Funeral Home & Crematory, Yankton, SD with a Rosary at 7:00 PM. Visitations will resume one hour prior to the service at the church. Due to COVID-19 concerns, friends and family are encouraged to participate through live streaming of Elsie's services at: https://www.facebook.com/opsahlkostel/live. Those wishing to attend in person are asked to wear a mask and to practice social distancing guidelines. Online condolences may be sent at: www.opsahl-kostelfuneralhome.com
Elizabeth "Elsie" Gurney was born May 24, 1927 in Dimock, South Dakota. Elsie spent her early years in Dimock, South Dakota. She moved to Yankton when she was 16 years old and attended and graduated from Yankton High School in 1945. During this time she met the love of her life, Ed Gurney, and was married on October 8, 1945. They were happily married for 37 years until the death of Ed in May 1982. After getting married, Ed and Elsie moved to Florida to work in the family business. It was there where they began their family with the births of Dennis, Marcia, and Stephen. The family then moved permanently to Yankton, South Dakota. It was in Yankton where they completed their family with the births of Terrell, Linda, Sandy, John, and Doug. Elsie worked for many years for the Yankton Human Services Center. She worked first as a cook, then, after attending some classes, she became a dietician's assistant. She enjoyed the challenge of learning new things. In her retirement, Elsie traveled a great deal around the United States. She also became an active member at the Yankton Senior Citizens' Center. She was known for her friendliness and her willingness to volunteer wherever she was needed.
Memories Elsie's children wished to share: Mom loved music and dancing and Dad didn't like to dance, so Mom made sure her children could dance and always enjoyed dancing at weddings and at odd moments around the house. She also had a great love for Broadway musicals and was thrilled when she went to NYC to see her first Broadway show. Dad had a mischievous sense of humor, but Mom seemed to always have the perfect comeback to his jokes.
Elsie was a beloved mother, aunt, and friend. She was well known for her sewing abilities and was responsible for sewing wedding apparel for her many children, grandchildren, and close relatives. She also sewed costumes for the Lewis and Clark Playhouse for a number of their shows. Elsie was known for her warmth, sense of humor, and quick verbal retorts. Everyone who knew Elsie knew that her door was always open, and that they would be greeted with a warm smile and an open heart.
Elsie enjoyed nothing better than planning family gatherings. The annual family reunion summer picnic was always well attended and her rice salad was always a huge success. Elsie enjoyed one last big party on her 90th Birthday where over 100 people joined together to celebrate her life. She loved being "Queen for the Day."
Elsie is survived by five children: Stephen, Marcia, Linda (Mike), Sandy (Phil), and Doug (Lynne); 12 grandchildren: Reese (Bernadette), Sara (Brian), Alysia (Scott), Brook, Christie, Heather (Ben), Nathan (Leah), Joshua, Zachary, Micah, Amy (Kate), and Tyler (Michelle); and 16 great grandchildren: Rebecca, Tony, Hudson, Scout, Melody, Emily, Ezra, Emrys, Linden, Rowan, Patrick, Isabel, Eliza, Evan, Alan, and Bridger.
Elsie was preceded in death by her parents, Stephen and Margaret Brech; her brothers, Sylvester, Arthur, Fredrick, Vincent, Norbert, and Lawrence; her sisters, Cecelia and Susan; her husband, Edgar; her children, Terrell, John, and Dennis; and her great grandchild, Taylon.