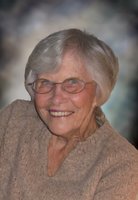 Della M. Goeden
Della M. Goeden, age 100 of Yankton, SD passed away on Sunday, September 13, 2020 at Avera Sister James Care Center in Yankton. Funeral Mass will be 10:30 a.m. Thursday, September 17, 2020 at Sacred Heart Catholic Church with the Rev. Fr. Larry Regynski as Celebrant. Burial will follow in Sacred Heart Cemetery. Visitation will be 5 to 7:00 p.m. Wednesday, September 16 with a 6:45 p.m. Holy Rosary and a 7:00 p.m. Vigil Service at Opsahl-Kostel Funeral Home and Crematory. There will also be visitation for one hour prior to service time at the church on Thursday. Due to COVID-19 concerns, friends and family are encouraged to participate through live streaming of Della's services at https://www.facebook.com/opsahl-kostel/live. Those wishing to attend in person are asked to wear a mask and to practice social distancing guidelines. Online condolences may be sent at: www.opsahl-kostelfuneralhome.com. Arrangements are under the direction of Opsahl-Kostel Funeral Home and Crematory in Yankton.
Della was born April 8, 1920, in Menominee, NE to Fred and Elizabeth (Goeden) Hoesing. She was raised on the family farm near Menominee and attended St. Boniface School. She married John A. Goeden on April 21, 1941 in Menominee, NE and they resided in Yankton, SD.
Della was a member of Sacred Heart Catholic Church in Yankton and belonged to the Catholic Daughters of America and the V.F.W. Ladies Auxiliary. She was a day care provider for many years, and had also worked for the Yankton Public School System and HyVee Grocery Store.
Della enjoyed being outdoors, working in her garden, was an avid walker, and wonderful baker. She especially loved spending time with her family who were everything to her.
Della is survived by her six daughters and their spouses: Carol (Leon) Zimmerman of Wymore, NE, Arlys (Wesley) Rye of Yankton, SD, Joleen (William) Francour of Greensboro, GA, Mary (Gerald) Somers of Aurora, CO, Jane (Michael) Lemay of Yankton, SD, and Jenifer (Doug) Willard of Tallahassee, FL; ten grandchildren: David Zimmerman, Michele Cresse, John Rye, James Rye, Megan Francour Ray, Jason Somers, Julie (Somers) Sommer, Sara (Lemay) Gilmore, Casey Lamay, and Austin Davis; two step-grandchildren: Andrew and Aric Willard; eighteen great-grandchildren and two step-great-grandchildren; a sister-in-law, Roberta Hoesing; other relatives and friends.
She was preceded in death by her husband, John Goeden on July 17, 1994; her parents; five brothers: Robert, Frances, Hilary, Clarence and Emery Hoesing; three sisters: Sr. Leonette Hoesing, twin sister Dorothy (Schieffer) Kralicek, and Arlene Wohlman.