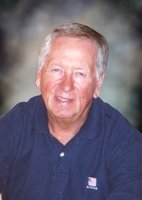 Vernon James "Jim" Schaa
Vernon (Jim) James Schaa, age 78 of Yankton, SD passed away Friday, August 28, 2020 at Avera Sacred Heart Hospital in Yankton. Memorial services will be 2:00 p.m. Wednesday, September 2, 2020 at Trinity Lutheran Church in Yankton with the Rev. Jeff Otterman officiating. Burial of cremated remains will follow in the Garden of Memories Cemetery with military graveside honors accorded by Ernest Bowyer VFW Post #791 Honor Guard, Guthrie American Legion Post #470 Honor Guard, and SDARNG Honor Guard. Visitation will be 1 to 2:00 p.m. on Wednesday at the church. Those wishing to attend are asked to wear a mask and to practice social distancing guidelines. Online condolences may be made at: www.opsahl-kostelfuneralhome.com. Arrangements are under the direction of Opsahl-Kostel Funeral Home and Crematory in Yankton. Urn Bearers are Dan Mulder and Jack Schaa. Honorary Urn Bearers are the members of the Melvin, IA Legion Post #470.
On Friday, August 28th, Vernon (Jim) Schaa, loving husband, father, and grandfather, died peacefully with his wife and son by his side.
Vernon was born March 16, 1942 in Sibley, IA to Vernon and Katherine (Grotluschen) Schaa. He grew up in Melvin, IA and graduated from Melvin High School before entering the United States Army. He proudly served his country during the Vietnam War and received several medals, including the Vietnam Service Medal and the Good Conduct Medal, as well as being recognized as an expert Rifleman. He was honorably discharged in 1970.
Following his service to our country, he met and married the love of his life, Linda Redman. They lived together almost inseparable for over 50 years. They raised two children, Dawn and Matthew Schaa.
During his life, Jim was employed and managed C-D Farm Service in Melvin, IA. He was later an operations manager for C-D Farm Service in Spencer, IA. He worked as a block plant manager in Goodyear, AZ and decided to 'semi-retire'. After moving back to Yankton, SD he worked at Yankton Ag (now Growmark FS) until his death.
Vernon loved serving his community. He was a fireman for 27 years, refereed basketball games, ran the timeclock, and was an active member at his American Legion. He enjoyed returning to Post 470 each year to serve breakfast.
Jim recently rediscovered fishing and enjoyed spending evenings at the river. He also enjoyed supporting his grandkids in all their activities and endeavors. He did not miss a game, graduation, or celebration.
Left to cherish his memory are his wife, Linda Schaa of Yankton, SD; children, Dawn (Dan) Mulder of Orange City, IA, and Matt (Kathi) Schaa of Yankton, SD; grandchildren: Kate Schaa (Kyle Gall) of Lesterville, SD, Karly Schaa (Chase Green) of Yankton, SD, and Jack Schaa of Yankton, SD; great-grandchildren: Owen Rueb and Kayden Green; brother, Wayne Schaa of Hartley, IA; sister, Peggy Schaa of Chandler AZ; sister-in-law Donna Schaa of Lytton, IA; a host of nieces and nephews and other beloved friends and relatives.
Vernon was preceded in death by his parents, Shorty and Katherine Schaa; brother, Larry Schaa; an infant sister; sister-in-law, Jeanne Schaa; brother-in-law, Jack Hurtgen and paternal and maternal grandparents.
Papa Vernie was a proud, strong, and good man. He is so loved and missed by many!
Known for quoting the lyrics of any Johnny Cash song, "There's no way around grief and loss: you can dodge all you want, but sooner or later you just have to go into it, through it, and, hopefully, come out the other side." – Johnny Cash
In lieu of flowers, the family requests memorials be directed to VA Post 470, 225 Main St., Melvin, IA 51350 in Vernon's name.