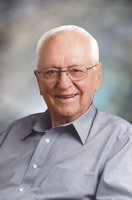 Alphonse A. "Al" Solay
SOLAY, ALPHONSE
Alphonse Solay, age 101 died Friday, June 26, 2020 at the Sister James Care Center, Yankton, SD. Funeral mass will be 11:00 a.m., Thursday, July 2, 2020 at Sacred Heart Catholic Church, Yankton, SD with the Rev. Fr. Larry Regynski as Celebrant. Burial will be in Sacred Heart Cemetery, Parkston, SD at approximately 1:15 p.m. with Military Graveside Honors accorded by Unger-Fergen American Legion Post #194 and the SDARNG Honor Guard. Due to COVID-19 concerns, friends and family are encouraged to participate through live streaming of Alphonse's services at: https://www.facebook.com/opsahlkostel/live. Those wishing to attend in person are asked to wear a mask and to practice social distancing guidelines. Visitation will be for one hour prior to the service at the church on Thursday. Online condolences may be sent at: www.opsahl-kostelfuneralhome.com.
Alphonse "Al" Aloysius Solay, the fourth child of Austrian born Frank and Elisabeth (Palkowitsch) Solay, was born October 3, 1918 near Tripp, SD. After finishing the 8th grade, Al worked on the family farm, for others detasseling corn, and later for Bill Fix running a corn game (bingo) at various festivals. On January 23, 1942, Al entered the US Army 1St Armored Division, and fought vigorously for our freedom in the WWII campaigns of Tunisia, Naples-Foggia, Rome-Arno, and North Apennines. He spent time fighting in Ireland, England, North Africa, Sicily, Italy, and Southern France. He worked his way to tank commander, served intelligence as a German interpreter, and attained the rank of Sergeant. Al was married to Eldora Leischner on November 18, 1944 by a justice of the peace in Sioux Falls South Dakota while home on leave. They further demonstrated their love through marriage at St. Mary's Catholic Church on February 11, 1945 in Hot Springs, Arkansas. After being honorably discharged on June 17, 1945 from his war service, Al and his brother, Steve, owned and operated a successful dry-cleaning establishment in Tacoma, Washington for a few years until he and Eldora moved back to Parkston, SD. There, Al worked as a butter maker at the Parkston Creamery, and later landed a job as a serviceman, and then a District Superintendent with Northwestern Public Service Company, serving Parkston, Dimock, Ethan, and numerous rural customers. One of his proudest moments of his career was when the community of Parkston rescinded previous action and voted to retain service from Northwestern in a 1961 public vote. Al had worked hard with others to gain the community's trust and confidence. Al and Eldora were married for 27 years and raised three children, Dennis, Debra, and Kurt. Eldora passed away in December, 1971.
Al married Vivian (Thompson) Hauser on October 5, 1974, adding her 2 sons, Kurt Hauser and Gary Hauser to the family. Al and Vivian enjoyed many hours of playing cards with other couples, and often went out to sharpen their dancing skills. Their favorite song to dance was The Tennessee Waltz. Al retired from Northwestern in 1980 after 32 years of service. Al and Vivian moved to Yankton, South Dakota in 2001 and were married for 39 years when Vivian passed away in March of 2014. Al will always be remembered for his ever present smile and unique laugh which instilled happiness in those around him.
Al was preceded in death by his parents Frank and Elisabeth, his brothers Frank Jr., Bernard, and Stephen, his sister Bertha (McCoy), his first wife Eldora and second wife Vivian, his sons Dennis Solay and Gary Hauser, and grandson James Hauser. He is survived by his sons Kurt Solay, Rapid City, SD and Kurt Hauser (Carrie) Yankton, SD; his daughter Debra Bomar, Mesa, AZ; daughters-in-law Nancy Solay, Albuquerque, NM and Sandie Hauser, Lafayette, IN; grandchildren Jeff (Nikki) Hauser, Nicholas Hauser, Katie Hauser, Morgan Solay, and Bennett Solay; and great-grandchildren Cole Hauser and Klay Hauser. Al's family will always be grateful for the friendship and wonderful care given to him by the staff and volunteers at Avera Sister James nursing home and Avera Hospice.
.