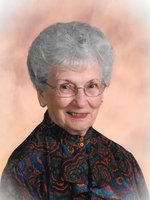 Marie Radel
Radel, Marie
Marie Lane Radel, age 93 of Tyndall, SD and formerly of Yankton, SD passed away on Sunday, August 11, 2019 at St. Michael's Hospital – Avera in Tyndall.
Marie was born October 1, 1925 near Utica, SD to John and Mary (Sykora) Kutilek. She married Glen E. Lane on September 11, 1945 and to this union four children were born: Darrel, Marilyn, Vera and Gary. Her greatest gift was her family. Glen passed away April 23, 1991. Marie married Glen Radel on September 30,2000 and he passed away August 19, 2015.
Marie enjoyed cooking, baking and playing cards. Kolaches, fried chicken and baking were a favorite of hers and her family.
She leaves to mourn, her daughters, Marilyn Cahoy of Tabor, SD and Vera (Ray) Bares of Tyndall, SD; her son, Gary (Sharon) Lane, of Sioux Falls, SD; eight grandchildren; 18 great grandchildren; three siblings: Helen (Joe) Zdenek, John (Marilyn) Kutilek and Polly Kniffen; sister-in-law, Mille Lane and many nieces, nephews and friends.
Marie was preceded in death by her beloved husbands, Glen Lane and Glen Radel; son, Darrel; parents, John and Mary Kutilek; son-in-law, Ray Cahoy; granddaughter, Lori Bares Pinkelman; siblings: Emil, Jim, Ben, Besse, Agnes, Albina and Eileen and numerous loving brothers and sisters-in-law.