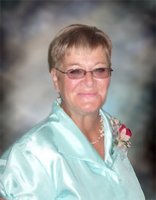 Kathy Guthmilller
Kathy Kathleen Guthmiller, age 63 of Menno, SD passed away unexpectedly Wednesday, November 21, 2018 at the Avera Heart Hospital, Sioux Falls, SD.
Kathy Guthmiller was born as Leonora Kathleen Marcelli on December 24, 1954 in Albuquerque, New Mexico to Juanita (Hamilton) and Mariona Juno Marcelli. At the age of 2 Kathy's father passed away. At the age of 6 her mother, Juanita, married Donald Sheffield at which time Kathy took on the Sheffield name and they moved to Mitchell, SD where Kathy started her education. Kathy continued her education through graduation from De Smet High School with the Class of 1973. She graduated from St. John School of Nursing in Huron, SD class of 1976 as a Registered Nurse and Class Valedictorian. As a Nurse, Kathy worked in Lander, Wyoming, Landmann-Jungman Memorial Hospital, Scotland, SD, Menno-Olivet Care Center, Menno, SD and finished her nursing career at the Human Services Center in Yankton, SD.
She served on numerous boards and committees throughout her life, including serving as an officer for the Tri State Old Iron and numerous positions on the county and state level for the Farm Bureau. For several years Kathy has been a caregiver for her mother who has dementia.
On March 26, 1977 Kathy was united in marriage to Doyle Guthmiller at the Salem Reformed Church in Menno, SD and then moved to a farm southeast of Menno, SD. She was willing to do field work, move equipment, and feeding many calves on the dairy operation and attend various grandkids activities. Kathy was involved with several of her family members in Guthmiller Trucking, including being one of the dispatchers and other roles until her passing. Two children were born into this marriage: Angel Kathleen, July 19, 1979 and Daniel Adam, December 2, 1983.
Kathy is survived by her husband Doyle of Menno, SD, Son Daniel wife Jessica of Menno. Grandchildren Lane, Eric, and Abby, of Menno, SD. Mother Juanita Sheffield of Platte, SD. Siblings Kevin (Lisa) Sheffield North Platte, Ne, Terry Sheffield, Silver City, New Mexico, Shawn (Sandy) Sheffield Beresford, SD Keith Sheffield Memphis, TN, Jennifer Sheffield Hettinger, ND, Stephanie (Dennis) Smith Chopin, LA. And numerous Aunts, Uncles, Nieces, Nephews, Cousins, and dear friends. She is also survived by her mother-in-law Mildred Guthmiller, Menno SD, Sister-in-law Marlys (Jerry) Williams, Plankinton, SD, brothers in-law Roger (Alita) Guthmiller, Galen (Linda) Guthmiller all of Menno SD and various nieces and a nephew.
Kathy was preceded in death by her fathers: Mariano Juno Marcelli and Donald Sheffield, her daughter Angel, twin brothers in infancy and her father in-law Gilbert Guthmiller.