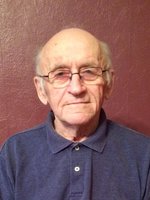 Raymond "Ray" Woehl
Raymond was born on April 23, 1936 on the family farm in Scotland, SD to Edward and Roselia (Heckenlaible) Woehl. He was baptized on June 7, 1936 by Rev. Zogg and confirmed on June 25, 1950. Raymond married Marie Jean Schaeffer on November 20, 1955 at Saron Reformed Church in rural Menno, SD and to this union 4 children were born. His employment included: Farming and milking cows and beekeeping and was employed at Fair Manufacturing (welding) in Menno, SD, Morgan's Manufacturing (welding) in Yankton, SD and Menno Sale Barn.
In Raymond's younger years he enjoyed playing high school football and spoke a lot of a time when a newspaper article called him "130 pounds of dynamite". He had many stories of his days playing football. He taught Sunday school for a number of years. At the end of the year, he would always take his class bowling or roller skating. Raymond enjoyed attending, but mostly competing, in various tractor pull events all around southeastern SD. He loved to strategize the balancing of weight positioning on the tractor for competition. He was an avid auction sale-goer and found the worth in many treasures. He spent many hours tinkering on his land west of Olivet.
Raymond is survived by his children: Randy (Phyllis) Woehl of Menno SD, Jimmy (Christina) Woehl of Menno SD, Johnny (Lori) Woehl of Menno, SD and Jean (Douglas) Zobel of Freeman, SD; sister, Verna Knoll of Tyndall, SD; twin sister, Idella Bietz of Tripp, SD; sister-in-law, Luella Auch of Menno, SD; fifteen grandchildren and 30 great-grandchildren.
Raymond was preceded in death by his wife, Marie; parents, Edward and Rose Woehl; father and mother in-law, Otto and Lydia Schaeffer and brothers-in-law, Ray Bietz and Eugene P. Auch.