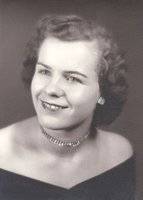 Delores Gwinn
Delores M. Gwinn, age 83 of Yankton, passed away at her home on December 31, 2017. There are no formal services are planned at this time. The Opsahl-Kostel Funeral Home & Crematory, Yankton, SD is assisting with service details. On line condolences may be sent at: www.opsahl-kostelfuneralhome.com.
Delores was born May 31, 1936 to C. Melvin Anderson and Clara (Loe) Anderson, the youngest of twelve children. Delores married Robert Gwinn on August 30, 1980 in Las Vegas, Nevada. She devoted her life to caring for her family. Delores always had a joke or two to tell, and always went out of her way to help those around her.
Delores is survived by her husband, Robert Gwinn of Yankton; two daughters, Linda (Gwinn) Libres of Michigan, Debby Eide of California; sister, Nila of Wisconsin; ten grandchildren; fifteen great grandchildren and a host of other relatives and friends.
Delores was preceded in death by her five brothers and five sisters. Also preceding in death are her two sons Gary and Gregg and daughter Lisa. There will be a private viewing for the family. Any condolences can be sent to the Opsahl-Kostel Funeral Home & Crematory, Inc., 601 W. 21st Street, Yankton, SD 57078