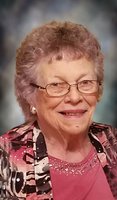 Hyacinth O. "Heidi" Tramp
Hyacinth 'Heidi' Tramp, age 91 of Yankton, SD and formerly of Crofton, NE passed away Wednesday, January 03, 2018 at Avera Sacred Heart Hospital, Yankton, SD. Mass of Christian Burial will be 10:30 AM, Saturday, January 6, 2018 at St. Boniface Catholic Church, Menominee, NE with Rev. Michael Schmitz officiating. Burial will be in the parish cemetery, Menominee, NE. Visitations will be 5 to 7 PM, Friday, January 5, 2018 at St. Boniface Catholic Church, Menominee, NE with a wake service at 7:00 PM. Visitations will resume one hour prior to the service at the church. The Opsahl-Kostel Funeral Home and Crematory, Yankton, SD is assisting with the service details. On-line condolences may be sent at: www.opsahl-kostelfuneralhome.com.
Heaven gained a beautiful angel, we call our mother, Hyacinth "Heidi" Tramp. Heidi was born March 22, 1926 at Crofton, NE to Peter and Theresa (Albrecht) Mueller. She lived her life on the farm. Heidi graduated from Holy Trinity Catholic School in 1943. She then went to Wayne State College and became a teacher who taught grades 1-8 in a small country school.
Heidi married Aelred Tramp on June 29, 1948 and to this union, eight children were born. She was a member of Christian Mothers Society and the Ladies Guild in Menominee, NE. She was a true and devoted Catholic.
Heidi had many, many things we all loved about her. You could always find an ice cream bucket in her freezer full of monster cookies or you could find her teaching her grandkids how to make and frost sugar cookies. She was also famous for her cinnamon rolls that she always had on hand. Making deer sausage was a major task for it had to be perfect, but there was once a band-aid found in a ring of sausage. Gardening and canning was her trade; she knew how to raise a garden to feed her family. She loved teaching her grandkids how to play cards, the rules she would make up on every hand was priceless and, by the way, she would always deny cheating.
Heidi's hobbies included her beautiful flower gardens, her wrens and finches that she watched out her window every day. She loved quilting, embroidering pillow cases and dish towels, and sewing. She was an avid Minnesota Twins fan and could tell you who they played every day. She loved the Nebraska Cornhuskers.
Heidi spent the last ten years in town at Walnut Village where she made many, many friends and loved to play bingo, put together jig saw and crossword puzzles.
Heidi will forever be missed by all her children: Charlene (Steve) Bunn of Ogden, UT, Loran (Kathy) Tramp of Yankton, SD, Marlyn (Pat) Mooney of Bennington, NE, Myron (Betty) Tramp of Crofton, NE, Theresa Tiesler of Sioux Falls, SD, Carol Tramp (John Draper) of Ashland, NE, Bonnie (Jerry) Peterson of Yankton, SD and Mark (Shawntel) Tramp of Crofton, NE; 23 grandchildren, 34 great-grandchildren and many children called her Grandma Heidi. She is survived by her brother, Francis of Crofton, NE and sister Rose Ann Whitlow of Lake Elsinore, CA.
Heidi was preceded in death by her parents, husband, Aelred; daughter-in-law, Kathy; 4 brothers and 4 sisters and brothers and sisters-in-law.