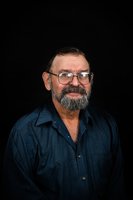 Lonald Lee "Lonnie" Langle
Lonnie was born prematurely on May 23, 1952, at Sioux Valley Hospital in Sioux Falls, the beginning of a lifetime of toughness and perseverance. He grew up on the family farm in rural Clayton, SD, and attended country school until the eighth grade, and thereafter attended Bridgewater High School.
He married Donna Elaine Freese on October 12, 1974 in a large family church wedding ceremony at St. John's Lutheran Church, rural Ramona, SD. They shared a loving companionship in marriage for over 43 years, sharing and facing life's hardships and joys together. This marriage was blessed with three children: Melissa Joy, Laura Leigh, and Lance Cache.
From an early age he helped on the family farm. After working at the feed mill in Bridgewater, SD, he engaged in farming full-time side by side with Donna. Through dairy farming they supported themselves and their family, and also shared in a love of animals and rural life. Lonnie always had a kind heart for the animals, and had an especially soft spot for the most small and vulnerable. He worked on the farm until December 23, the last time the tractor pulled to a stop in front of the couple's home; he wouldn't have traded this life for anything.
Faith was an important foundation in Lonnie's life, and he attended various Lutheran churches to share fellowship. He was baptized and confirmed at St. Martin's Lutheran Church in Alexandria, SD. He and Donna found their spiritual home within the community of Immanuel Lutheran Church, Menno, SD, where they had officially joined as members in September 2017.
Lonnie was well-known for his studiousness and curiosity, a path started early on in life and continued to the end. At the time of his death he was at work on a history of the Clayton/Milltown area. In tribute to him, his family hopes to complete the work. Lonnie was perpetually and variously curious, having interests as varied as archaeology, historical weaponry and target shooting, music and singing, genealogy/family history, and horticulture. He was always reading and learning, and passed this on to his children and grandchildren.
Lonnie is preceded in death by his parents, Charles and Helen (Fuoss) Langle; his brother, Lloyd; aunts Marjorie, Louisa, Lillian, Alvina, and Shirley; uncle, John; and dear friend Norm Duesterhoeft in July 2017.
He is survived and remembered lovingly by his dear wife, lifetime companion, and best friend, Donna; daughter Melissa Lee and husband John, and their sons Brian, Will and Sam of Vermillion, SD; daughter Laura Carpenter and husband Mark of Inverness, Scotland, UK; son Lance and wife Miranda, and their daughters Leila and Meera of Freeman, SD; nephew Lewis Langle of Sioux Falls, SD; sister-in-law Esperanza Langle of Sioux Falls, SD; as well as numerous friends and extended family who share in remembrance.
The family wish to express depths of gratitude and love for the kindness of everyone who offered support, care and kind words at this difficult time. Even though we will feel a sense of loss oftentimes; we feel the joy of Lonnie walking into the light and peace that the world was promised on that first Christmas.