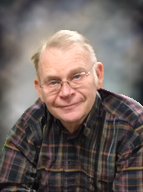 Clark Douglas "Sparky" Johnson
Clark was born October 23, 1948 in Yankton to Clark Finnerud and Elizabeth Drier Johnson. He attended The Model School, Sacred Heart School, and Yankton High School. He graduated from The University of South Dakota with a business degree.
Clark spent his professional life in the clothing business, working in men's clothing stores in Yankton, Des Moines, IA, Topeka, KS and Lincoln, NE. He spent the last two decades of his career with Knitcraft-St. Croix in Winona, MN.
While living in Winona, Clark was active in the Catholic Church. He served on the Finance Committee of the Cathedral of the Sacred Heart for many years.
Clark loved clothes, classic cars, the New York Yankees, and his family, including his beloved dog, Dempsey. Clark was generous of heart and a faithful friend.
Clark is survived by his brother, Gene of Kansas City, KS; sister, Mary (Lynn) of Rochester, MN; brother, Paul (Bridgid) of Dubuque, IA; sister-in-law, Marlene; nephews: Patrick, Kyler and Alex; nieces, Kristin (Hunter) and Sara (Ted); grand nieces and nephews and many, many dear friends.
Clark was preceded in death by his parents, Clark and Elizabeth and his brother, Steven (Chopper).