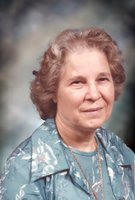 Florence I. Ruff
Florence was born February 14, 1923 to Daniel G. and Bertha E. (Klatt) Strobel in Eureka, SD. She attended rural school in Eureka, SD. She moved to Morris MN in 1938 and graduated high school in 1941. Florence graduated from Bismarck Evangelical Hospital School of Nursing in 1944. Florence married Harold C. Ruff on August 11, 1946 in Laurel, MT with Reverend Theodore Strobel (uncle of the bride) officiating. She worked in hospitals in Bremerton, WA, Billings, MT, Spokane, WA, Greybull, WY and Sidney MT. Florence and her husband moved to Yankton, SD in 1962. At that time, she worked at the Human Services Hospital for seven years and then worked at the Mikkelson Nursing Home for four and one-half years. Florence was a member of United Church of Christ (joined in 1964) and was a past president of Women's Fellowship.
Florence is survived by sons, Duane Daniel Ruff of Yankton, SD and Dale Harold Ruff of Sioux Falls, SD; three grandchildren and eight great-grandchildren.
Florence was preceded in death by her parents and her husband, Harold, one brother and two sisters. Memorials are directed to the Building Fund at the UCC Church; 218 West 5th Street; Yankton, SD 57078.