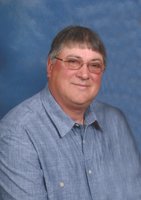 Daniel R. Bouza
Dan was born Friday, December 25, 1959 in Armour, SD to Ray and Mary (Haeffner) Bouza. He was fond of saying he was born on Christmas and his mom was Mary. Dan graduated from Tripp High School in 1978 and Diesel Mechanics Program at USD – Springfield in 1980. On St. Patrick's Day 1982, Dan met his best friend and love of his life, Renae Souhrada. They married November 3, 1984 in Tyndall, SD. On December 5, 1994, while in a goose blind, Dan received the call that he and Renae were being blessed with a baby girl. On December 9th Dan and Renae brought Holly home. Holly was the apple of her dad's eye and will forever be his baby girl. On July 27, 1998, Dan and Renae received the call that son, Michael Hunter would be joining this loving family. Mike came home on July 29, 1998. Michael was taught at an early age the love of the land. Dan installed early in his children's life, faith, family, friends and to have fun! Dan's greatest joy in life arrived on September 11, 2013, the day he became a grandpa. He loved this role and looked forward to the time spent teaching Parker the names of tools and building things out of junk. All of Dan's nieces and nephews were taught to hunt and fish and he made sure they knew they were special in his life.
Dan was an active member of Riverview Reformed Church, Yankton. He was thrilled to not be elected Deacon for the fifth time. He was an active Boy Scout Leader with Mike's Troop 102 for many years. He was instrumental in planning trips to the Big Horns and Philmont in New Mexico. He loved his time with friends playing pinochle and supper at the Sub Station. Dan retired in May 2017 from SAPA after 32 years of employment. Dan will be remembered for his hearty laugh and his willingness to help anyone and everyone.
Dan will be missed by his wife, Renae; daughter, Holly Bouza (Fiancé, Kyle Quinowski) of Vermillion, SD; grandson, Parker; son, Michael of Yankton, SD; brothers, Joe (Rhonda) Bouza of Scotland, SD and Donald (Jenny) Bouza of Sioux Falls, SD; sister, Diane (Tim) Eichstadt of Norfolk, NE; mother-in-law, Gladys Souhrada of Yankton, SD and many nieces, nephews, cousins and friends.
Dan is preceded in death by his parents, Ray and Mary and father-in-law, Alfred Souhrada.