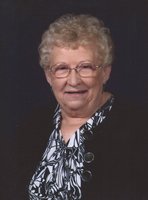 Berneice Marie Vogt
VOGT BERNEICE
Berneice was born September 10, 1937 in Tyndall, SD to Frank W. and Martha (Holy) Carda. She was baptized and confirmed at St. Leo's Catholic Church in Tyndall, SD. Berneice worked as a waitress at Mareks Care and the Tyndall Tribune when she was in high school. Berneice married Albert Wagner in 1956 and three sons were born to this union, Dean, Robert and Gary. They lived on a farm near Lesterville, SD where Berneice loved raising her children, growing flowers and vegetables in her large garden and loved her cats. Berneice married Clarence Vogt on November 2, 1991. She worked at Avera Sacred Heart Hospital in housekeeping for 19 years. Berneice and Clarence loved to travel in their motor home, visiting many states, family members and friends. She was chief navigator on their travels, reading the maps and keeping Clarence on the right roads.
Berneice is survived by her husband, Clarence of Yankton, SD; sons, Dean (Mandy) Wagner of Carter Lake, IA, Gary (Julie) Wagner of Yankton, SD; brother, Frank (Jan) Carda of Tyndall, SD; grandchildren: Sheila (Dan) Hage, Stephen Wagner (fiancée, Laura Johnson), Candace Wagner and Rayan Wagner; great-grandchildren: Willa, Weston and Whitley Hage; stepdaughters, Cheryl (Rob) Cotter and Darcy (John) Kleinschmit; step-grandchildren: Tom (Emily) Cotter, Katrina Cotter (Fiancé, Jake Crockford), Jay Cotter, Jessica (Andrew) Licking, Darek Kleinschmit and Karissa Kleinschmit and step-great-grandchild, Fred Cotter.
Berneice was preceded in death by her parents, husband, Albert and son, Robert.