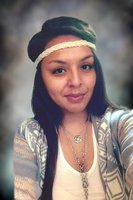 Ashley Chinana
Ashley Kay Chinana was born April 6, 1994 to Jamie and Tricia Frazier Colsden (Chris), Cory Greeley (Lisa) in Yankton, SD. She was a SSN Head start graduate and continued her education at Niobrara High School and graduated in 2012. She was involved in basketball, cross country, cheerleading, National Honor Society and SSN Youth Council. She continued her education at Morningside College and graduated from Southeast Community College with an A.A. Degree in general liberal arts. She had plans to continue her education at Wayne State College. Ashley entered the National Guard in 2014 and was still active. She enjoyed jingle dress dancing, running, playing basketball, spending time with her family and friends and was a proud mother to her son.
Ashley is survived by her parents; companion, Gregory Neff II (Sonny); son, Gregory Neff III; brothers, Corinthian Greeley Jr., Anthony Sharpfish-Greeley, and Micah Crowe; sisters, Parese Greeley, Aleana Colsden, grandma Sharon Saul, and many relatives.
Waiting for Ashley on Wanagi Makoce are her grandmas, Patti Thomas, Patricia Frazier and her grandpa, Noah Wilke.