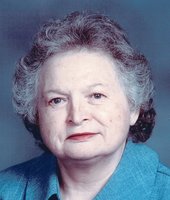 Delvonna Joy Moser
Delvonna Joy (Wynia) Moser was born on October 30th, 1932 to David (Dave) and Nadine (Halsey) Wynia. She joined a family of two boys and two girls, Donald, Dorothy, Delmer (Duane) and Delores. She had two other brothers who passed away shortly after they were born, one before her birth and her youngest brother, Eugene a few years after her birth. She attended a rural country school from 1st through 8th grade and attended Springfield High School and graduated on May 22, 1950. She attended Southern State Teachers College in Springfield, SD and received her 2 year teaching certificate in 1952.
She met the love of her life, Wilbert Moser during college, through her brother, Duane, as they were in basic training in the Army together. In fact it was her brother Duane who got her to write to "Willy." After boot camp, Wilbert was eventually stationed in Korea and they continued to correspond and started dating after he returned from his military service in the Korean War.
Delvonna started teaching Country School for Bon Homme County and taught for 2 years at District #44, which was just up the road from Wilbert's parent's farm in rural Scotland, SD. Wilbert and Delvonna were married on June 2, 1954 and Delvonna continued to be a Country School Teacher for Plugraph School District #79 in Bon Homme County in South Dakota. The school was just a couple of miles from the farm that the couple purchased and were living on. Delvonna gave up teaching in May of 1956, as their oldest daughter, Ladonna was born in October of 1956. In 1960 a second bundle of joy by the name of Cynthia (Cindi) was born on June 28th. Wilbert and Delvonna continued to farm and in 1970 sold their first farm and purchased and moved onto the family farm homesteaded by Wilbert's great-grandparents. On September 13, 1973, a third daughter, Vicki was born.
In 1981 the couple sold the farm and moved into Scotland and Delvonna became a nurse's aide at the Menno Nursing Home. As Wilbert did not enjoy living in town, they eventually moved back to the country and rented the house on what had been Wilbert's parent's farm when he was growing up. Wilbert did some trucking and worked in town and Delvonna continued working as a Nurses Med Aide at the Tyndall Nursing Home. After many years, they eventually moved back to Scotland and were semi-retired.
Wilbert passed away on June 4, 2004, 2 days after their 50th Wedding Anniversary. At the urging of her daughters, Delvonna moved to an apartment in Yankton, SD in the fall of 2004. She volunteered and also worked part-time at the Benedictine Center in Yankton, SD for a few years, later again working part-time as a Med Aide for Prairie Homes Assisted Living Center in Yankton, until she was diagnosed with cancer. She finally fully retired after undergoing Cancer treatment in 2011. She passed away on November 18, 2017 of a stroke.
Delvonna was a people person and she was never happier than when she had all her family, or a group of friends around her. She loved having her sisters and brothers and their spouses visit. When her grown nieces and nephews came back to SD, she really enjoyed having them stop by for a meal or at least coffee and dessert. She adopted many of her daughter's friends as family and they were always welcome at her home, where she always had some kind of special treat ready for them. She enjoyed playing cards, and attending events at the Yankton Senior Center. She loved spending time with her children, and was fond of traveling to her grandson's home in Mobridge to spend time with her great-grandsons. She also loved all her children's pets, or as she called them, the grand-kitty's and grand-puppies and was called on to be the pet sitter when needed by her children.
Delvonna is survived by her daughters and sons-in-law: Ladonna and Ronald Clark of Harrisburg, SD, Cindi and Jeff Pfeifle of Yankton, SD and Vicki and Martin Saffel of Sioux Falls, SD; two grandsons and grand-daughter-in-law, Cody and Katie Imberi of Mobridge, SD and Michael Saffel of Brookings, SD; two great-grandsons, Kaden and Cooper Imberi; brothers and sisters and their spouses: Donald and Judi Wynia of Tyndall, SD, Dorothy and Harold Haar of Union, IL, Delores Huntsman of Ventura, CA; sister-in-law, Irma Wynia of Sioux Falls, SD; many nieces and nephews, great-nieces and great nephews and many other relatives and friends.
Delvonna was preceded in death by her parents, Dave and Nadine Wynia; mother and father-in-law, Robert and Ella Moser; her husband, Wilbert; brothers-in-law, Leonard Moser and Darrell Huntsman; her brother, Duane Wynia; sister-in-law, Alvina Wynia and one nephew, Guy Dallenburg.