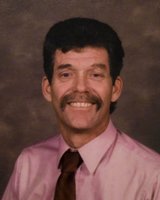 Peter D. Larson
LARSON PETER
Peter Larson, age 68, passed away November 11, 2017 at the Veterans Administration Hospital, Sioux Falls, SD. Funeral services will be 2:00 PM, Thursday, November 16, 2017 at Our Saviors Lutheran Church, rural Menno, SD with Rev. Theresa Jacobsen officiating. Burial will be in the Our Saviors East Cemetery with Military graveside rites by the Rames-Bender American Legion Post #152, Honor Guard and the SDARNGHG. Visitations will be 5 to 7 PM, Wednesday, November 15, 2017 at the Aisenbrey-Opsahl-Kostel Memorial Chapel, Menno, SD and then one hour prior to the service at the church. On line condolences may be sent to: www.opsahl-kostelfuneralhome.com. Pallbearers will be Tim Larson, Steve Larson, Andy Larson, Terry Bitsos, Don Holmstrom, and Nathan Grega Larson.
Peter was born June 10, 1949 to Margo and Mearl Larson. He attended Norway District #25, the one room schoolhouse, and then Augustana Academy in Canton. He served in the United States Army from March 1969 through February 1972. Pete married Connie Olson and together they had Terry and Tammy. They later divorced. Pete married Sharon Benski and together they had Lisa. They later divorced.
Pete's line of work varied from cabinetmaker, to painter, to HVAC installer, to firewood splitter, to City of Springfield street department worker. In retirement Pete was caretaker of Twin Brook Farm, the family farm established by great-grandfather Peter Larson in 1873. Pete was a friendly soul who always had a smile and kind word for whomever crossed his path. He enjoyed reading, working crossword puzzles, and playing Texas Hold Em.
Survivors include his brothers and sisters: Tim (Marti), Naomi, Steve, Rachel (Don Holmstrom), and Andy (Betsy); his children: Terry (Sue) Bitsos, Tammy (Loren Lockman) and Lisa Benski; his grandchildren: Zara, Phoebe, Nathan, Josh, and Trevor; and his nephews and nieces: Nathan, Mark, Anna, and Susanna. He was preceded in death by his parents, Mearl and Margo Larson.
Memorials may be made to Our Savior's Lutheran Church, 29219 431st Avenue, Menno, SD 57045.