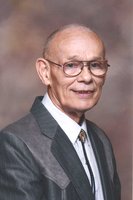 Edwin A. Degen
Edwin Adam Degen was born March 15, 1934 at Dimock, South Dakota to Henry and Wilhelmina Mary (Grohs) Degen. He grew up in the Dimock and Ethan, South Dakota area until 1950 when his family moved to the rural Mitchell, SD. area during his high school years. Edwin graduated from Plano High School rural Mitchell, SD. He joined the United State Army on September 7, 1954 and was honorably discharged on August 17, 1956. Edwin was united in marriage to Beverly Greene on January 24, 1959 in Mitchell, SD. Ed and Bev farmed in the Mitchell area for a couple of years and then moved to Sioux Falls, SD. In 1963, Edwin started to work for John Morrell Company in Sioux Falls where he was employed for 24 years. In 1978 Ed and Bev moved to rural Lennox, SD. In September 1984 Ed and Bev opened Bev's Upholstery, which they owned and operated for 16 years. In 2000, they moved to Tabor, SD. Ed and Bev enjoyed camping and over the years met many other campers and enjoyed their company with many campfires during the season and their friendship throughout the years. In June 2014, due to Parkinson's disease, Ed was no longer able to stay in his home at which time he entered the Good Samaritan Nursing Home in Tyndall, SD.
Grateful for having shared his life is his wife, Beverly of Tabor, SD; three daughters: Debora Degen DeZee of Sioux Falls, SD, Pamela Degen Dibbert (Warren) of Sioux Falls, SD and Kimberly Degen of Aliso Viejo, CA; grandchildren: Krystal and Kathryn DeZee, Jeremy, Justin and Jacob Dibbert, all of Sioux Falls, SD; sister, Elaine Welch of Mitchell, SD; sister-in-law, Theresa Degen of Sioux Falls, SD and many nieces and nephews.
Edwin was preceded in death by his parents, one sister, Viola Lowrie and one brother, Delbert Degen.