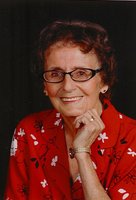 Mary Lynn Black
Mary Lynn was born March 28, 1930 to Anthony and Pauline Loretta Anderson and lived her entire life in Yankton. She worked for Sacred Heart Hospital for 51 years before she retired in 2010. She worked in the OB/GYN department and assisted in the delivery of hundreds of babies over the years of work there. She transferred to the Cardio-Pulmonary Department and learned how to do EKG's, EEG's and assisted many doctors in the Cardiac Stress Lab. She had a niche for putting people of all ages at ease with her laugh and quick wit. She loved the people she worked with and especially enjoyed the patients that she cared for.
Mary Lynn married Lyle Black on January 9, 1980. Together they traveled to many places to visit family and friends from Spokane, Washington to New York and New Jersey. Traveling to Ireland was a lifelong dream. They traveled the entire island's coastal highway, visiting many castles, churches and of course a "pub" or two. She could not leave until she kissed the Blarney Stone.
Mary Lynn's house was always "grand central station". All were welcome there whether family and friends, for after school snacks to big holiday dinners and watching football games with her family and their many friends over the years.
Mary Lynn's pet animals gave her many happy memories over the years as they were a part of the family. It was not uncommon to have several pets ranging from dogs to cats, birds, squirrels, a horse and of course "the pig". She could entertain for hours telling about all the memories each of them brought.
Going to sporting events was another thing she especially enjoyed as she watched her children and grandchildren play a variety of sports over the years. She and Lyle traveled to as many away games as well as the home games. She also enjoyed going out with her grandchildren for a drink or two, which of course would include some hearty laughing and many true stories that she could keep all entertained with. Her faith was very important to her and she attended mass almost daily until her health prevented her from attending.
Mary Lynn is survived by her children: David (Maxine) Willman, Tony Willman, Jeff Willman and Vicki (Richard) Miller, all of Yankton, SD; Russ (Cindy) Willman of Sioux Falls, SD, Cathy (Patsy) Casamassa of Morris Plains, NJ, Linda (Bruce) Minkler Hot Spring's, SD and Lori (Terry) Mastalier of Okeechobee, FL; one brother, Gene (Fran) Anderson of Fort Collins, CO and 3 step children: Steve Black, Dave Black and Joe (Daylene) Black all of Spokane Washington, and Angela Kralicek of Yankton, SD.
Mary Lynn was preceded in death by her parents; husband; stepdaughter, Mona Blaschke and 3 step-grandchild.