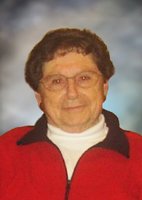 Viola Wollman
Viola was born October 12, 1921 to Robert and Clara (Weidenbach) Auch on the family farm near Lesterville, SD. She was baptized and confirmed at the Petersburg Congregational Church in rural Lesterville and attended country school at Odessa #41 near Lesterville. She worked at Gurney's Seed and Nursery and Scott's 5 & 10. Viola married Helmuth Wollman on December 21, 1947 at Petersburg Congregational Church. They farmed south of Menno until 1983 when they retired and moved to Menno. She moved to the Inn on Westport in Sioux Falls, SD in 2015 and then she moved to Sioux City, IA in April of 2017.
Viola loved gardening, growing flowers, baking, along with spending time with her grandchildren.
Viola is survived by one son, Rick Wollman of Sioux City, IA; two daughters, Judy Wollman of Sioux Falls, SD and Kathy (Roger) Curtis of Yulee, FL; one sister, Alta Hansen of Beresford, SD; four grandsons; Jason Wollman, Chris (April) George, Cory (Jesse Coeling) George, and Cody (Kellee) George and five great-grandchildren; Tiegan, Mallie, Hunter, Harper, and Molly.
Viola was preceded in death by her parents; her husband in 1995; sister, Wilma Zeeb in 2010; brother, Allen Auch in 2015 and daughter-in-law, Vicki Wollman in 2017.