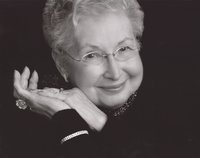 JoAnn F. Vinatieri Flow
JoAnn Francis Vinatieri Flow was born January 19, 1933 in Yankton, SD to Ehrum F. and Kathryn (Roberts) Vinatieri. JoAnn was youngest of 11 children, the last Vinatieri of her generation. She spent her formative years in Yankton at 308 Green St. She graduated from Sacred Heart School of Nursing in 1954. She married Ralph C. Flow, a mining engineer raised in Lead, South Dakota, on December 28, 1954.
JoAnn and Ralph lived in various states, throughout the US and Argentina, raising 4 children during their 29 years of marriage. JoAnn's life was brought full circle, when they returned to Yankton in 1972, purchased a home at 306 Green St. For 8 years JoAnn and the children traveled between schools in the US and life in South America. Her love of travel began in 1954 and continued throughout her life. Globetrotting took her all over the world including Europe, Middle East, the Far East, Mexico, South America, Alaska and Hawaii, to name a few. Her last trip was to Norway in 2011, realizing a lifelong dream to visit Ralph's homeland. She was accompanied by her daughters and grandchildren.
JoAnn's Roman Catholic faith was the corner stone of her life. She belonged to Catholic Daughters, Legion of Mary, St. Benedict Oblates, Yahweh Shalom Prayer Group. A lifelong learner, she became a certified spiritual director, hospital Chaplain at Avera Sacred Heart Hospital and participated in prison ministry at Yankton Federal Prison Camp. She was a member of the Sacred Heart Cemetery board and volunteered at Avera Sacred Heart Hospital and Majestic Bluffs, delivering communion and helping with daily masses. She was an active member and volunteer of the catholic community.
JoAnn's love of music came from her Italian grandfather, Felix Villet Vinatieri, who was General George Custer's bandmaster. A prolific composer whose music and instruments are in the National Music Museum, Vermillion, SD. Her beautiful singing voice could be heard in church choir and community theatre.
She went to Yankton Community Concerts as a child, becoming a member of the Board as an adult. She was a member of both the National Music Museum and the Yankton Historical Society/Mead Building project. She was a volunteer and participant of the Lewis and Clark Theatre and was a founding member of the Yankton Rambin Roses Red Hat Group. JoAnn was an avid bridge player who enjoyed club activities with her husband and as a widow. She was elegant, gracious and charming; a grand hostess who enjoyed arranging social, business and charitable functions.
JoAnn resided at Avera Majestic Bluffs Assisted Living, for the past 8 years. She was hospitalized suddenly September 18th. She joined the love of her life, Ralph for the ultimate trip, on September 26, 2017. She died peacefully, at 2:40 am surrounded by family. We were all blessed to have been a part of her life.
JoAnn is survived by her three children: Kathleen L. Flow of Yankton, SD, Christopher R. Flow of Santa Rosa Beach, FL, Holly A. Flow (Kevin McCormick) of Valley Center, CA; three grandchildren: Christopher Michael Flow of Washington, DC, Cash Flow McCormick and Vivianna Flow McCormick of Valley Center, CA; two very dear sister-in-law's, Fern Vinatieri of Walla Walla, WA and Helen Mattson of Poway, CA; countless nieces, nephews, cousins and friends throughout the world.
JoAnn was preceded in death by her grandparents, Felix V. Vinatieri and Anna Fejfar; parents, Ehrum F. Vinatieri and Kathryn Roberts; ten Vinatieri siblings, husband, Ralph C. Flow and son, Michael K. Flow.
JoAnn's legacy lives on by giving memorial donations to the following two charitable organization. In lieu of flowers: Yankton Historical Society, online: www.meadbuilding.org (JoAnn Vinatieri Flow button), phone: 605-665-3898, mail: Meade Cultural Education Center, 610 Summit, Yankton, SD 57078 and the Michael K Flow Memorial Scholarship, online: www.mtmc.edu/give (write in name), phone: 605-668-1542 (Amy-secretary), mail: Mount Marty College Office of Advancement, Michael K Flow Memorial Scholarship, 105 West 8th St., Yankton, SD 57078.